Poetic images of impossibilities
A visual concert for children inspired by experimental electronic music, theater of objects and performance art.
In this work the composer Antti Tolvi's and puppeteer artist Pauliina Vesslin's characters Pink and Bear travel on the living room carpet to other worlds with the help of objects and the sound and music they create. Pink and Bear make visible the stories of water, light, wind, plastic bags, toilet paper and other utensil objects by playing their music.

The performance premiered during TIP-Fest 2021 and is available for touring.
Contact info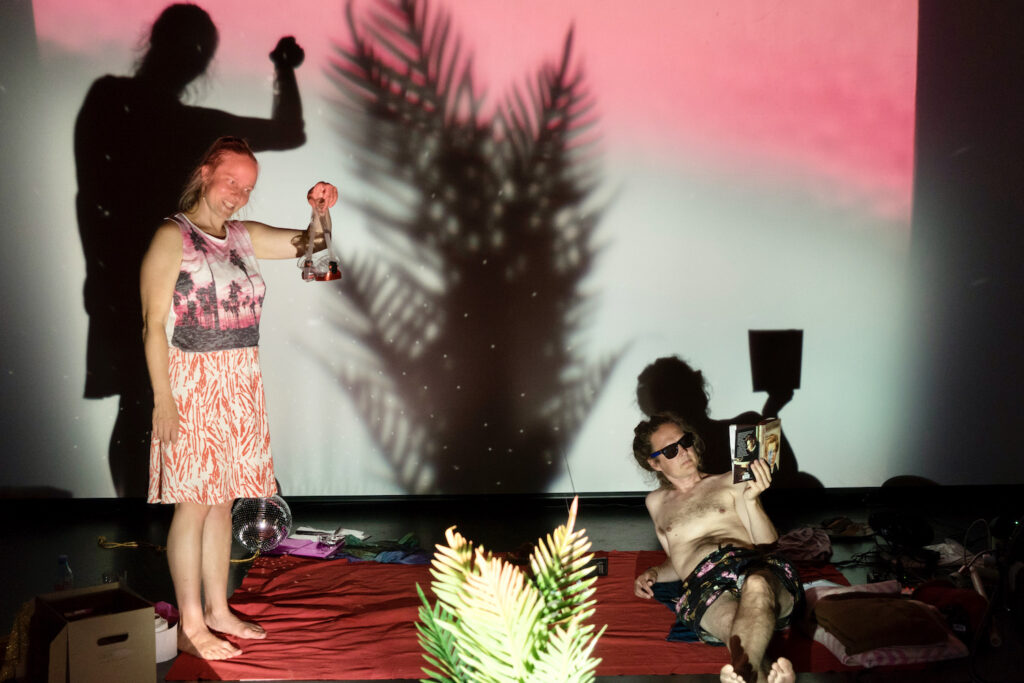 Duration: 50 min
Language: non verbal
Age recommendation: 5 +
WORKING GROUP
Concept and performance Antti Tolvi & Pauliina Vesslin §
Costume design: Maria Zitting

Production: Nurinpäin Kollektiivi 2021
Comments from the audience:
"My children, aged 8 and 3 were super excited about the show! They especially noted the genius combination of live demonstrated sound- and visual effects happening on stage. The overall ambiance was magical starting from a dreamlike underwater world to space and beyond…!"
"How on earth did you come up with all those things!" – Man 75 years
"The show was really punk!" Choreographer 35 years
The performance is supported by Arts Promotion Centre Finland, Kemiönsaari commune and Raseborg city culture services.