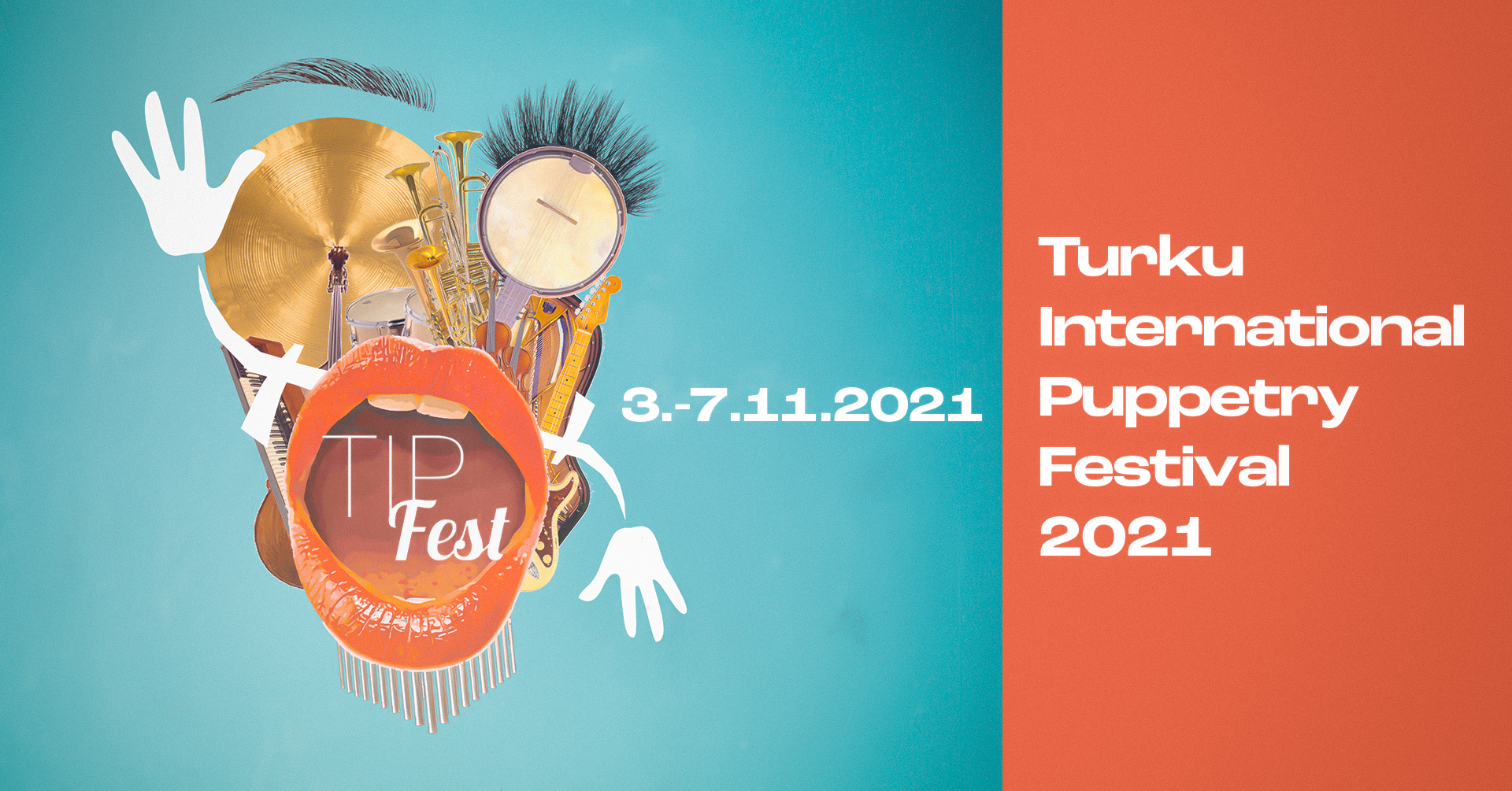 Programme for professionals
This year Turku International Puppetry Festival from 3 to 7 November 2021 gathers all puppet art professionals together to join online the 12th edition of TIP-Fest. This time the festival focuses on sound, music and rhythm on stage. 
During past years TIP-Fest has brought forth different aspects and expertise areas in puppet art. Most of these aspects seamlessly fuse together, nevertheless they play a crucial part in the artform respectively. This year's theme sits naturally in this continuum of past thematics, such as light design and puppet construction.
Sound and music are crucial to forming the performance's overall rhythm – an aspect that defines the performance's relationship to its thematic.
Music, sound and Rhythm are present in many ways in this year's festival programme. TIP-Fest invites everyone to dive deep within puppet theatre -keep your ears wide open and take part in discussions concernint music in visual theater, soundscapes and other professional programme!
TIP-Fest 2021 Program for professional consist a sneak peek to Finnish puppetry scene – what is bubbling under and builds the bridges with professionals online.
HOW TO PARTICIPATE: 
Professional program is free of costs but registration is needed. The program is targeted for professionals, presenters and programmers in performing art field. Professional program is available virtually till end of November 2021.
You may register yourself HERE.
Questions and more information: 
Sanna Soni –  
Performances:
3 November 2021:
World premiere at festival in Turku and online:  
Anna Nekrassova – BEFORE THUMBELINA 
at 8:00pm EET 
Live stream link will be available on 3rd November 
Performances and animations:
The Mechanical Swan – Extinction Paradise 
Nordic Puppet Ambassadors – R  
Ferrafiat, Uschanov, Hanikka –VSKNHA
Link will be available on 3rd November

Pitch -session and discussion:
4 November 2021:
PITCH SESSION at 10 am. EET  
PITCH -session with 8 independent artists and groups. Artists will introduce and pitch their international touring performances for adults and children for seasons 2022-2024. 
Artists: Elviira Davidow, Elina Lajunen, Niina Lindroos,  Erika Makki, Merja Pöyhönen, Alma Rajala, Outi Sippola, Timo Väntsi 
Pitching videos are available for participants till the end of November. 
PROFESSIONAL MEETING & DISCUSSION:  at 3:00pm. EET
Some global views on contemporary puppetry. Panel discussion with puppetry professionals from Finland, Slovenia, United States  and Korea.
Panelists: Miran Shin AVIAMA General Assembly 2022 & Unima World Congress 2025 in Chuncheon City,  Blair Thomas Chicago Puppet Festival, Ajda Roos Ljubljana Puppet Theatre and  Roosa Halme TIP-Fest. 
Discussion is moderated by executive director of Aura of Puppets Elina Tanskanen.
Information about the artists and performances

ANNA NEKRASSOVA – BEFORE THUMBELINA:
I am a desert, full of tumbleweeds. No flowers, no rain. Fear crawls towards me, digs itself out from the dry ground, takes me in its tight embrace and whispers: "What if yet this seed will change nothing?"
Before Thumbelina is an everyday fairytale for adults. Telling a story about a person's struggles; challenges with infertility, dreams and fears.
Carried by song, rhythms as well as puppet and object theatre, the first solo performance by Anna Nekrassova focuses on the moment before H. C. Andersen's renowned story of Thumbelina. The very moment is focused on the story's Mother, a character we only get to see by glimpse in the original tale.
Before Thumbelina will premiere at TIP-Fest as an opening performance.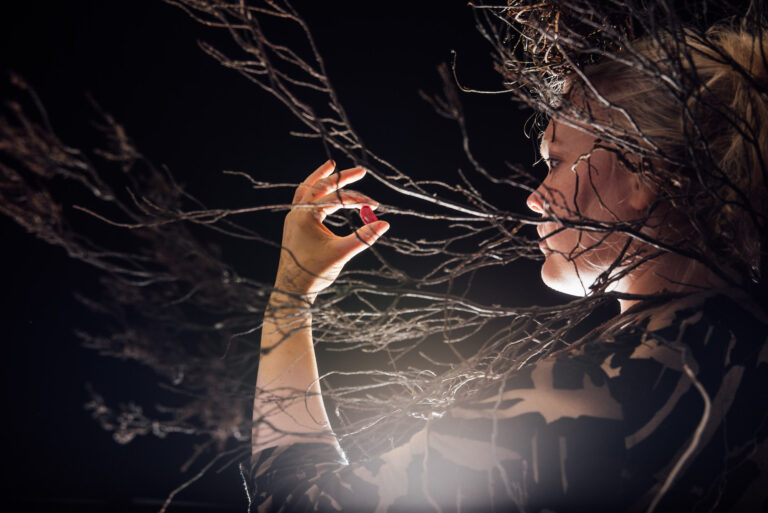 Nordic Puppet Ambassadors – R: 
An object theatrical study about balance.
Is it possible to make a circus trick with tableware inherited from one's grandmother? If yes, what does that lead to? How to act when the floor is lava? The world is full of attractive  objects, gadgets and devices, valuable things and junk, which one is not allowed to touch. The world is also full of situations these objects take us to.
R is cheerful and exciting invitation to play. It misuses objects creatively, mixes reality with play and grasps topics which are actual for the target group 3-8 years old.
35 minutes performance is bilingual and its originally made in Finnish and Swedish and can be performed as well in Danish and English and other combinations of these languages. Object theatre performance practices the pronunciation of the R-sound.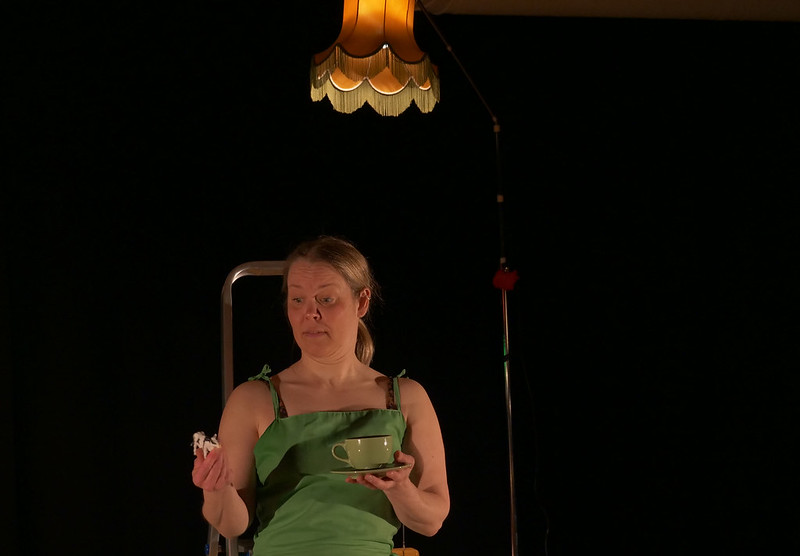 Ferrafiat, Uschanov, Hanikka -VSKNHA
Short film of a puppetry performance
After three days between four walls, the quarantined traveler scratches the surface of the map laid open on the floor. Somewhere around the Gulf stream, he reaches VSKNHA, the aerial city that had long lost all its vowels but one, long lost also the laws of gravity and of logic. The performance is a firework of imagination born during the quarantine, a dadaist poem in the shape of a chain reaction.
Short film is filmed inside a caravan.
WORKING GROUP Script, concept and puppets: Perrine Ferrafiat Directing: Anna Uschanov Sound design: Emma Hanikka Stage design: Mila Nirhamo On stage: Perrine Ferrafiat and Emma Hanikka In the creative process: Daniela Alatorre, Camille Martin Video and editing: Olli-Pekka Jauhiainen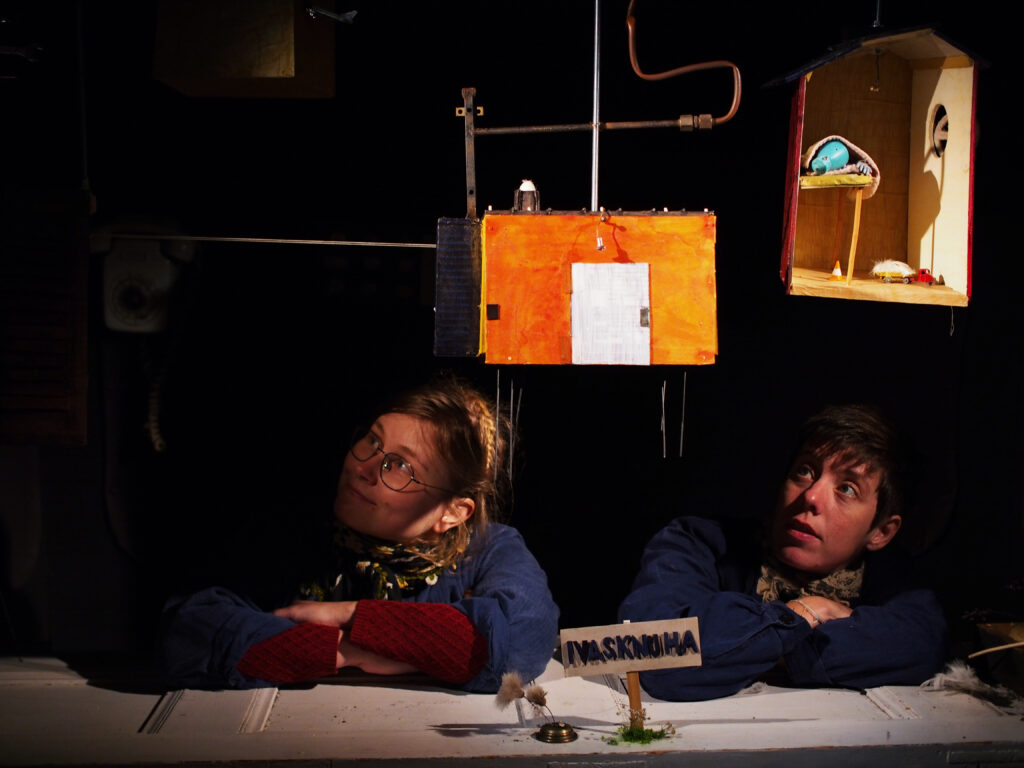 The Mechanical Swan – Extinction Paradise: Contemporary puppetry about fruitful childlessness
Extinction Paradise is a breathless deep-dive and shamanistic trip into the myth and nature of childlessness. The play debuted in February 2021 via live stream from theater Tehdas Teatteri; the live debut was held in Helsinki's Koko Teatteri in October 2021.
"Hello, I'm Eeva. Ding dong, ding dong. I am the guide of the biological clocktower. I spread my legs like the hands of a clock over this dying city."
Eeva is living a life that other people think is lacking something important. But the hopes and dreams of others are not shared by Eeva, and her story expands against the expectations of society into a mystery and celebration the size of the entire universe. One of the protagonists of the tale is the fast-pulsing Baltic Sea and its teeming muddy life cycles, which Eeva studies professionally.
This puppet show for adults pours forth sharp insights into the topic of voluntary childlessness and nurtures them into a visual, poetic, and grotesque world. Everything looks different, when you stop considering reproduction to be the main responsibility of humankind.
The Mechanical Swan is a living ensemble gathered together on a show-by-show basis by puppet theater director Alma Rajala, the impetus of which was the desire to develop a new kind of performance language. In Extinction Paradise, interesting experimental theater art creators come together in completely novel ways.
Working group:
Script: Reetta Niemelä
Dramaturgy and direction: Alma Rajala
Puppets and set design: Heini Maaranen
Choreography: Lee Lahikainen
Performers: Merja Pöyhönen, Riina Tikkanen, Petriikka Pohjanheimo
Lighting design: Nadja Räikkä
Sound design: Tuuli Kyttälä
Costume design: Noora Salmi
Producer: Moona Tikka
Graphic design, video projection, photography:: Jussi Virkkumaa
Translation: Kasper Salonen