13 February – 6 March 2021, Tampere I
Rooms by the Sea is a visual theatre performance based on Edward Hopper's (1882-1967) paintings. One of his most famous pieces, Nighthawks depicts four persons in an all-night diner situated in the corner of two streets. Hopper was a master of characterizing urban life and people in the paintings often seem to be somehow apart or lost in their own thoughts. The sense of timelessness or stagnant moments are also typical in his oeuvre.
Visual theatre makers, puppet artist Mira Taussi and actor-director Mikko Bredenberg have created an original and atmospheric stage interpretation of an artist working with miniatures of rooms and buildings. After it's premiere in 2017 in Turku Rooms by the Sea has received praise in Finland and abroad. The performance was lastly seen during the International Festival of Contemporary Art, Parallels, in Russia.
Rooms by the Sea will be seen in Tampere for the first time and the performances take place in the historical Finlayson area. The performance was originally created for an industrial space and now the old textile factory space enables the spectator to step inside the world of Edward Hopper's paintings.
WORKING GROUP
Director, scenography and stage design: Mira Taussi and Mikko Bredenberg
On stage: Mikko Bredenberg
Miniatures: Hanne Lammi, Mira Taussi and Mikko Bredenberg
Music: Sumuposauttaja
Producer: Venla Moisala
PERFORMANCES
13.2. at 18:00 & 20:00
14.2. at 18:00 & 20:00
20.2. at 18:00 & 20:00
21.2. at 18:00 & 20:00
25.2. at 18:00 & 20:00
26.2. at 18:00 & 20:00
27.2. at 18:00 & 20:00
28.2. at 18:00 & 20:00
5.3. at 18:00 & 20:00
6.3. at 18:00 & 20:00
Finlayson Area, Vooninki
Väinö Linnan aukio 13, Tampere
Tickets 20 / 25€ from Holvi Web Shop
Age recommendation : 7+
Language: without words
Duration: 45 min, no intermission
Performances are for one 7 spectators at the time due to COVID-19 regulations.
Read more about the performance's safety and accessibility below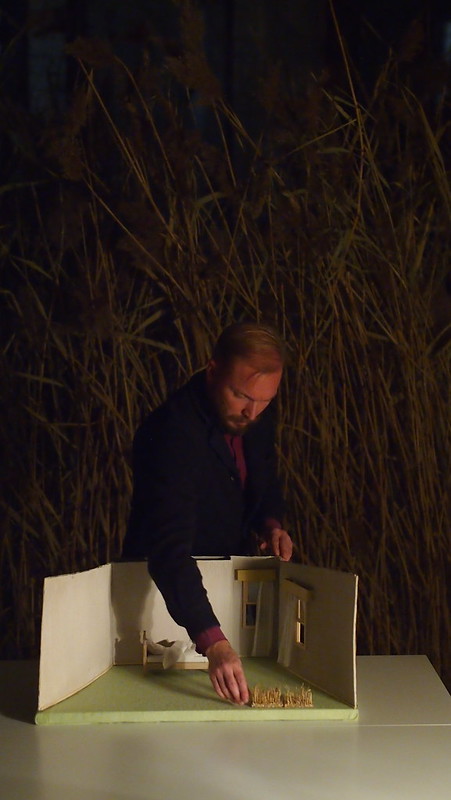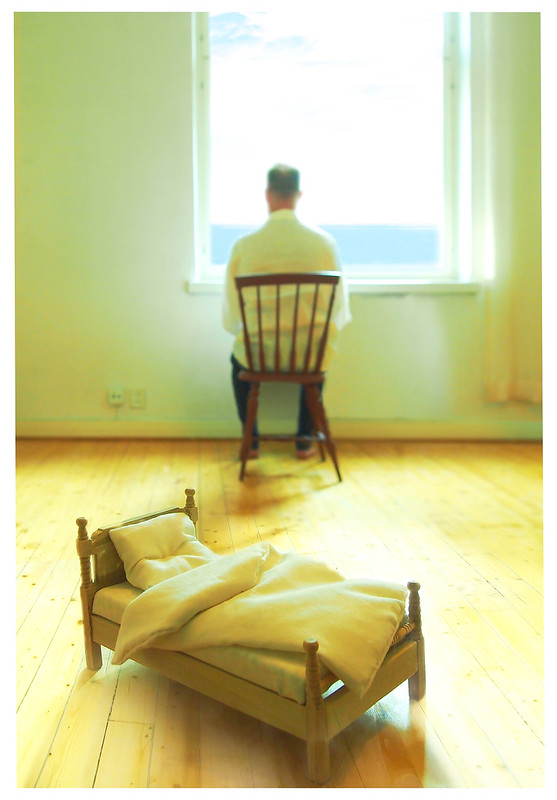 Safety and accessibility information
COVID-19 instructions for our audience
The safety of our audience and staff is our priority. We want to ensure a safe experience for everyone attending. Therefore we have gathered some instructions an guidelines below we hope you'll take a moment to read.
Doors and ticket sales open 30 minutes before performance.
Wearing a face mask is highly recommended. Our staff wears masks during their work. Hand sanitizers can be found in the foyer. Always keep an adequate physical distance (1 to 2 meters) to others during the whole theatre visit.
In case of illness
Only attend the performance when not ill. If you or someone accompanying you are experiencing a fever, cough, or other symptoms that could be related to COVID-19, please stay home. Contact us latest on the day of the performance by noon: . In case of illness we change the ticket to a further date. If this is not possible you can get a refund for the ticket. It is not possible to attend if you are in quarantine (for. ex. After travelling abroad)
Seating arrangements
We have reduced capacity of seating to ensure proper social distancing between audience members.
One can bring their jackets to the auditorium in order to prevent queues forming in front f the cloakroom servce before and after the performance.
When the performance ends, please leave the auditorium and foyer in a tranquil pace in order to maintain a safe distance to other members of the audience.

Tickets
We recommend to buy the ticket beforehand from Holvi web shop since the capacity is reduced and fewer tickets are available. Tickets are sold from the door 30 minutes before the performance. Please note we only accept card payments at the door.

Collecting of contact information 
During ticket sales we collect contact data (e-mail or phone number) from each member of the audience. This information is gathered in the sole purpose of contacting the attendees after a possible corona virus exposure during the event.

Accessibility
The performance is without words and possible to follow without proficiency in Finnish or English.
The space, Vooninki in Finlayson area. Is wheelchair accessible.
If you have further questions about accessibility, please contact us via e-mail: .