A mystical puppetry horror tale about Finns and their relationship to the forest. Fear of the forest combines sound art and puppetry with horror and creates a visual-magical sphere of curious rituals on stage.It is an ever-noisy and ever-smelly performance of sacred trees, blurred boundaries of the forest, beard moss, black birds, coal-stained marks on trunks, lurkers in the dark as well as shivering in a tent.
Dramaturgy, visuality and on stage: Käppi – Rajala – Räikkä, a trio that have previously created a horror puppetry tale: Rääkän luku (2016). A folk musician, also known as the bowed lyre fairy, Pekko Käppi, Nadja Räikkä, a visionary light designer and a renowned puppeteer and visual theatre maker Alma Rajala have come together again to create a new performance. Fear of Forest premiered as an indie production in April 2022 at Theatre Telakka in Tampere, FI.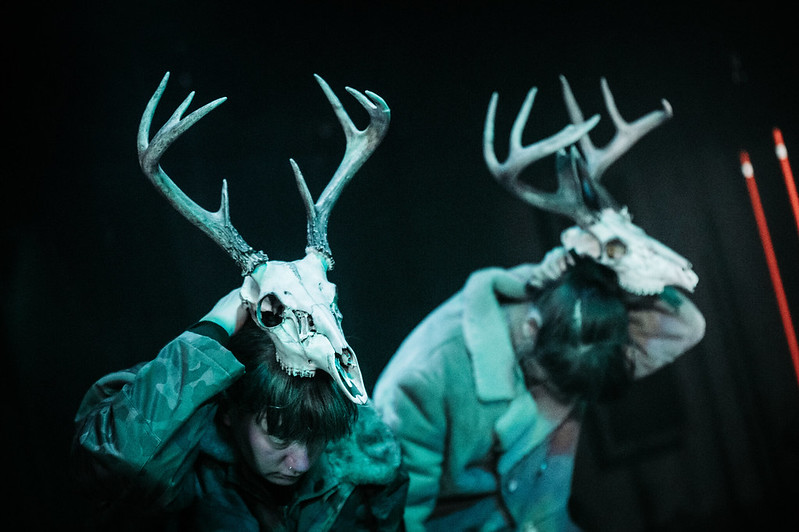 PERFORMANCES
Sat 5.11. at 18:00
TEHDAS Theatre, Manilla. Itäinen Rantakatu 64, Turku
Duration: 1 hour (no intermission)
Age recommendation: 18 +
Language: without words
Tickets: Aura of Puppets' Holvi web shop
"After the performance I feel like I have been through a mystical rite myself. A deep journey and a shamanistic trip to the depths of one's minds horrors and woods. Jus a magnificent performance!"

Paljon melua teatterista -blog 4/2022

WORKING GROUP
Dramaturgy, visuals, on stage: Käppi – Rajala – Räikkä
Composing and sound design: Pekko Käppi
Director: Alma Rajala
Light design: Nadja Räikkä
Puppets: Heini Maaranen
Graphic design and photos: Jussi Virkkumaa
Performance is supported by: Arts Promotion Centre Finland, Finnish Cultural Foundation, Majaoja-säätiö and Aura of Puppets.