2.11.–16.12.2022, Turku
A very unusual comedy sketch show from the distant past and the future.
A small gem of Turku's contemporary puppet theatre scene now in Sopukka! Ridiculousness dives into what theatre might be in some distant future, where a tiny hole has appeared in the bottom of a pocket, and today's rules and assumptions have slipped out of it into the murk of history among house keys and Visa Electron.
The focus is on opinionated and anarchist street puppet characters that take their stage and state their matters in a medieval Neapolitan marketplace. A beautiful, actor-scaled tragic story of human survival in all its vulnerability stretches in front of the audience. After all, life is a life-long struggle against meaninglessness and absurdity. And that is exactly why it is so very wonderful.
Combining puppetry and new performance art, Ridiculousness is strongly inspired by medieval Italian Pulcinella puppet tradition, centered on a little strange creature called Pulcinella: an antihero of the common folk who sees the weak points of those in power as well as the ridiculousness of surrounding society's requirements for individuals – and does not hesitate to speak out.
"In Pulcinella's tradition, improvisation, precision, sound and rhythmicity are at the heart of everything. In this piece, tradition and hand puppets are in present, but they have found surprising new – evolved or demented, who knows –  forms, facets and shapes within themselves. However, the way tradition offers a street performer the opportunity to constantly rearrange and reinvent scenes and lines on the go has been appropriated as such into the heart of Ridiculousness. And Pulcinella's rare acoustic human voice manipulation techniques here find exciting new forms in relation to their digital counterparts," says Antti-Juhani Manninen of his solo work.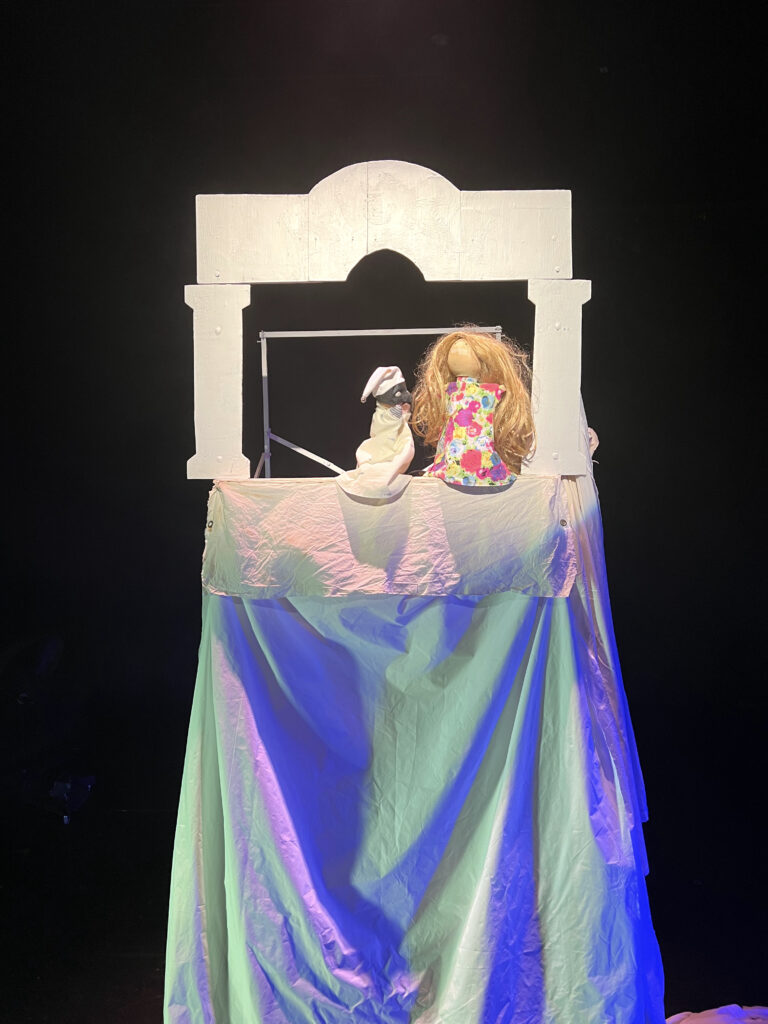 Ridiculousness strips the theatre of all the superfluous; all the pre-chewed-up, all the narrative and all the unambiguity. Nevertheless it does not neglect entertainment, freedom, nor especially humanity. Ridiculousness is what connects us humans. It enables us to relate to each other and our shortcomings with warmth and understanding and with a big old pile of shared love.
WORKING GROUP Concept, sound design and on stage: Antti-Juhani Manninen Dramaturgic adviser: Merja Pöyhönen Light design: Jarkko Forsman Puppet making assistant: Heini Maaranen Dramaturgical assistant: Jaakko Lilja Technician: Arttu Aarnio Photos: Jussi Virkkumaa Production: Antti-Juhani Manninen, Turku City Theatre and Aura of Puppets
Antti-Juhani Manninen has been creating intimate, intense and uncompromising stage works for 20 years. Now for the first time at Turku City Theatre with his new solo work. This time, it's all in! Hand puppets, superlon foam, woolen socks, slips, slides, aesthetic pleasures, unashamedly absurd humor and the near certainty that everything could go wrong!
The premiere of Ridiculousness is seen on the first day of TIP-Fest in Turku City Theatre Sopukka stage.
Manninen is an internationally active puppeteer, sound designer and composer. His works have been performed in Finland at venues such as the Tehdas Theatre, Barker Theatre, Ruisrock and other festivals in Turku, the Museum of Contemporary Art Kiasma and Helsinki Festival.
PERFORMANCES 2.11 at 19:00 premiere 3.11. at 19:00 11.11. at 19:00 12.11. at 19:00 17.11. at 19:00 18.11. at 19:00 19.11. at 19:00 1.12. at 19:00 2.12. at 19:00 3.12. at 19:00 15.12. at 19:00 16.12. at 19:00 Sopukka, Turku City Theatre, Itäinen Rantakatu 14, Turku Kesto: 1h Ikäsuositus: 13+ Kieli: englanti Liput Turun Kaupunginteatterista