21.4. &, 27.5.2023 Helsinki I
Two women, two ways. A storm is brewing in the teacup.
"Tea for Two" is a short object theatre performance in which tea is best served cold. It is a playful and deliciously ironical play performed in a caravan in vintage fur coats. It does not end well.
A story about two neighbours that love a cup of hot tea – without each other's company. Nevertheless their fates become intertwined when a natural catastrophe strikes and a series of unexpected events forces them to work together.
Theatre group Qo is a Finnish-French enemble from Helsinki known for their politic-poetic pieces.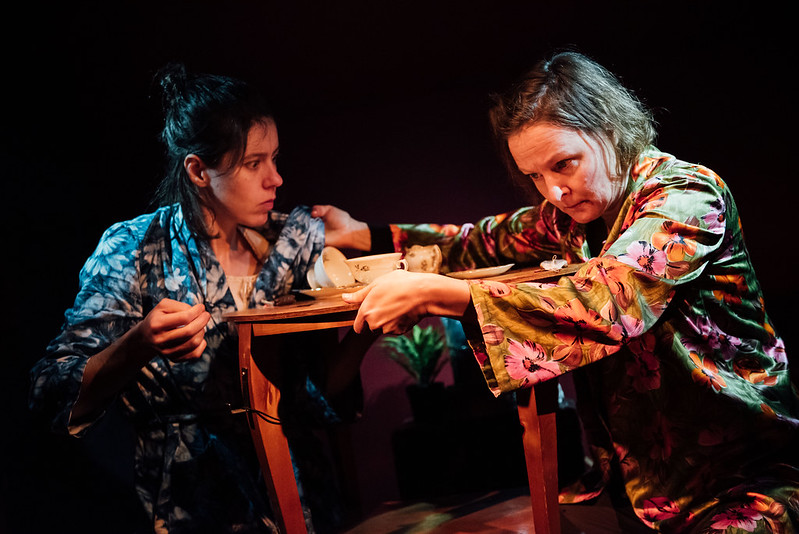 PERFORMANCES Friday 21.4.2023 klo 16:00, 17:30 & 19:00 Karavan, Cirkon courtyard. Kaasutehtaankatu 1, Suvilahti Helsinki. Tickets 25€ / 15€ from Holvi Web Shop, or 30 min before the performance at Cirko. La 27.5.2023 klo 18 & 19:30 Nukketeatteritalo, Lepolantie 19, Helsinki Tickets: Ticket sales open 30 min before the performance.
Duration: 20min Age recommendation: 14+ Language: without words
WORKING GROUP Director: Sinikka Lumiluoto Concept, script, set design: Perrine Ferrafiat On stage: Perrine Ferrafiat & Mila Nirhamo Sound design: Valtteri Bruun