A visually stunning solo performance for adults about challenges, dreams and perseverance.
I am a desert, full of tumbleweeds. No flowers, no rain. Fear crawls towards me, digs itself out from the dry ground, takes me in its tight embrace and whispers: "What if yet this seed will change nothing?
Before Thumbelina is an everyday fairytale that beautifully unfolds a touching story about infertility by the means of puppetry and object theatre. It regards fears and challenges one faces when chasing their dreams. Nekrassova's visually stunning performance weaves into a multi-faceted and skillful entity leaving room for audience's personal experiences.
Carried by song, rhythms as well as puppet and object theater, the first solo performance by Annan Nekrassova focuses on the moment before H. C. Andersen's renowned story of Thumbelina. The very moment is focused on the story's Mother, a character we only get to see by glimpse in the original tale.
Before Thumbelina premiered at TIP-Fest 2021. This the performance for adults is seen for the first time at Åbo Svenska Teater Studio stage.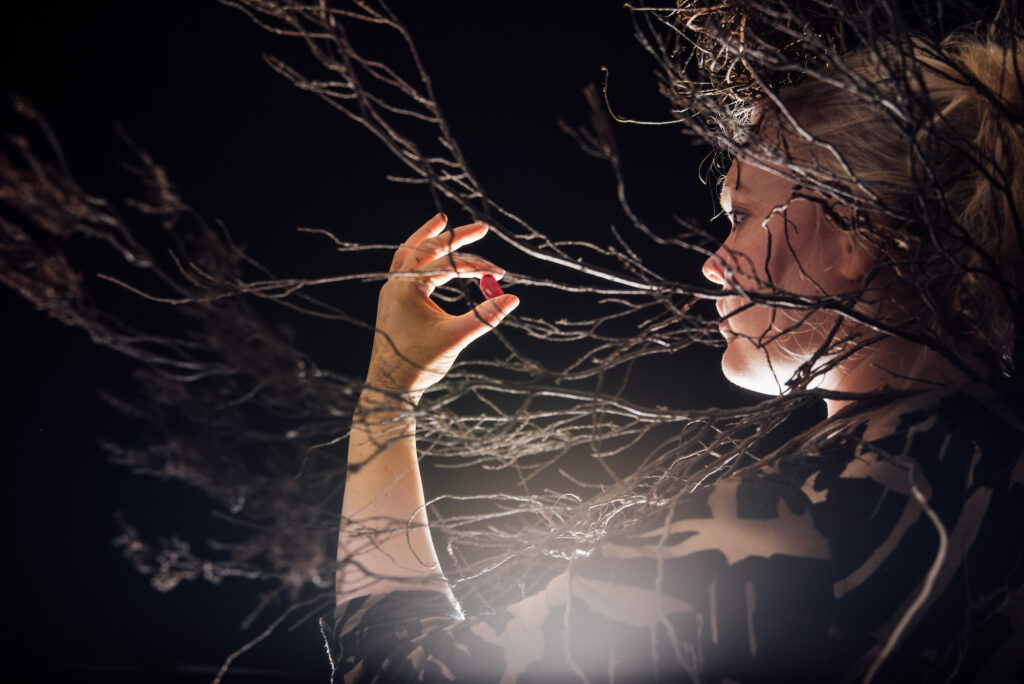 PERFORMANCES Fri 4.11. at 17:00 & 20:15 Åbo Svenska Teater, Studio stage. Eerikinkatu 13 Turku Duration: 45 min Language: without words Age recommendation: 15+ Tickets: Åbo Svenska Teater or Lippu.fi WORKING GROUP Director, script, on stage: Anna Nekrassova Scenography and puppets: Laura Hallantie Sound design and composer: Antti-Juhani Manninen Rhythms: Akseli Nivala, Anna Nekrassova Light design: Irene Lehtonen
The performance brings beautifully forth, through metaphors, how it feels to be in a body and mind of a woman suffering of infertility. The performance as a whole is well put together and does not feel restraining despite its theme. On the contrary it is characterised with the unexpected as well as playfullness. A difficult subject can be discussed strongly trough stage art – there is no need to whisper.

Frida Maria Pessi, Turun Sanomat 4.11.2021
Performance is supported by Arts Promotion Centre Finland, Turku Theater Foundation, Finnish Cultural Foundation, Uusimaa Regional Fund and Aura of Puppets.