A solo toy theater* performance inspired by life and art of French photographer and painter Dora Maar (1907–1997).
The starting point for the piece was the puppet theatre -like presence of Dora Maar's surrealist photographs; the situations, spaces and characters in the images all lead towards something words cannot express. What is left outside the photograph frames? What happens before and after the brief moment that is captured on film?
The Unmentionable keenly perceives Dora Maar's oeuvre, approaches it with awe and playfulness, finally passionately plunges into its world. The performance depicts melancholy as well as the titillating sense of mystery, two feelings that create the characteristic tension in the artist's works. The solo bows to Dora Maar's art yet also creates its own, indescribable reality with the means of puppet art.
*Toy theatre is an art form that emerged in the 19th century as a miniature-size imitation of theatre of its time. Niina Lindroos' toy theatre imitates visual arts resulting as contemporary puppetry from the new millennia.
WORKING GROUP
Direction and dramaturgy: Niina Lindroos and Elina Sarno
Performance and puppet construction: Niina Lindroos
Light design: Essi Santala
Sound design: Henri Hyökyvirta 
Costumes: Riikka Mellin and working group
Logistics and visual assistance: Jenni Rutanen
Scenography: working group
Photography: Maija Kurki
Production: Niina Lindroos and TEHDAS Theatre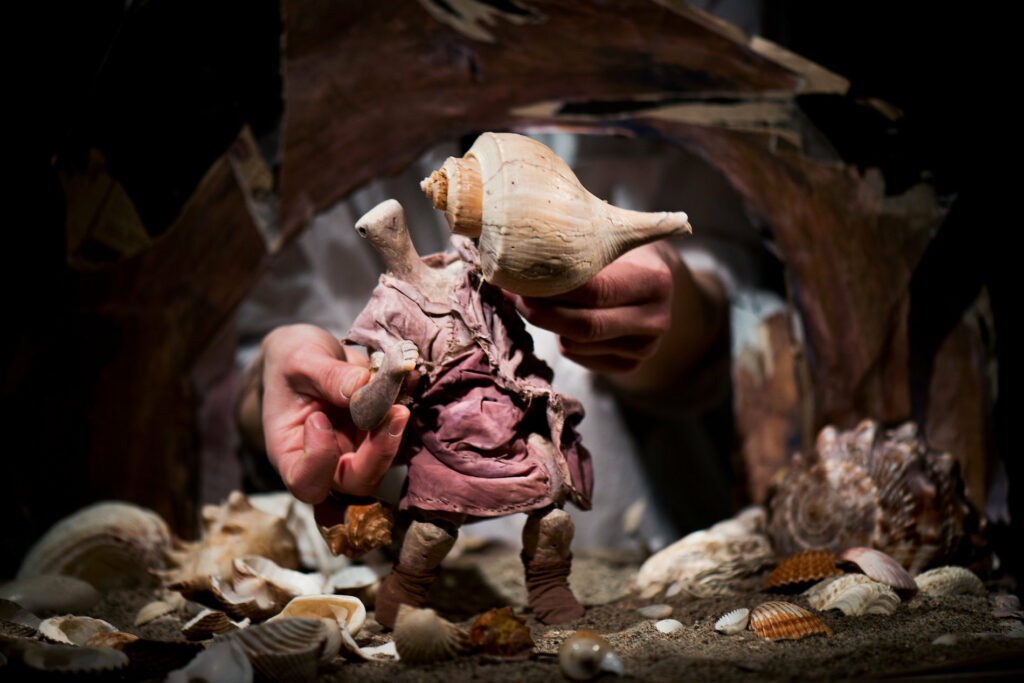 The performance premiered 9 April 2021 in TEHDAS Theatre and has featured as part of TIP-Fest 2021 and Oh My Puppets! 2022 Festival programmes. The Unmentionable returns to TIP-Fest 2022 for invited audiences.

PERFORMANCES
Sat 5.11. at 13:00 & 16:00
TEHDAS Teatteri Vintti stage, Manilla. Itäinen Rantakatu 64, Turku

Duration: 1 h (no intermission)
Age recommendation: 13+
Language: without words
Tickets will be available in Aura of Puppets Holvi web shop from October 2022
The performance is supported by Finnish Cultural Fund, Varsinais-Suomi Regional Fund // Finnish Arts Promotion Centre, Arts Council of Varsinais-Suomi // TOP-Foundation // City of Turku, Cultural Committee // Turku Theater Foundation // Puppet art network Aura of Puppets.