5 November 19:00 at TEHDAS Teatteri I

Object theatre show for two actors, one marionette, a table and a bunch of nonsense objects. Build on motifs of Cervantes's novel, visual poetics of Švankmajer, and some facts from everydays puppeteer's life, the show Being Don Quichotte confronts past and present, the individual and the society, the puppeteer and his puppet, the puppets and objects.
The tragicomedy starts with the poor puppeteer, who lives without stage, without lights and has to make his way through life with only one marionette. Interfered by the manager, who only wants to build a commercial hit, the simple traditional puppet show escalates into physical theatre, commedia dell'arte and surrealistic scenes, in which the stage spreads all over the place and the audience becomes actively involved.
Built by marionette master, played by two multifunctional puppeteers, directed by experimental-theatre director, this shows combines traditional and modern interpretations of puppet theatre and in this way questions the sense of this artform. And even by questioning identity, culture, art and other postmodern topics, the provocation will be at last put into self-irony and resignation.
Performance: Friday 5th of November at 19:00, Tehdas Theatre, Itäinen Rantakatu 64
Duration: 60 min 
Language: English
Age recommendation: 15 +
Tickets: Holvi web shop
Teatro Matita (Matija Solce, Filip Šebšajevič)
Matija Solce established Teatro Matita in 2002 after completing his studies at Bruno Leone's traditional Italian hand puppet school in Naples (Italy). His first shows E Beh? (2002) and Little Night Tales (2003) proved to be great success and were subsequently presented at a range of international festivals around the globe. In his latest performances, Matija is experimenting with basing object theatre shows on musical principles. From 2003 till now he got over 30 awards for his shows all over the Europe.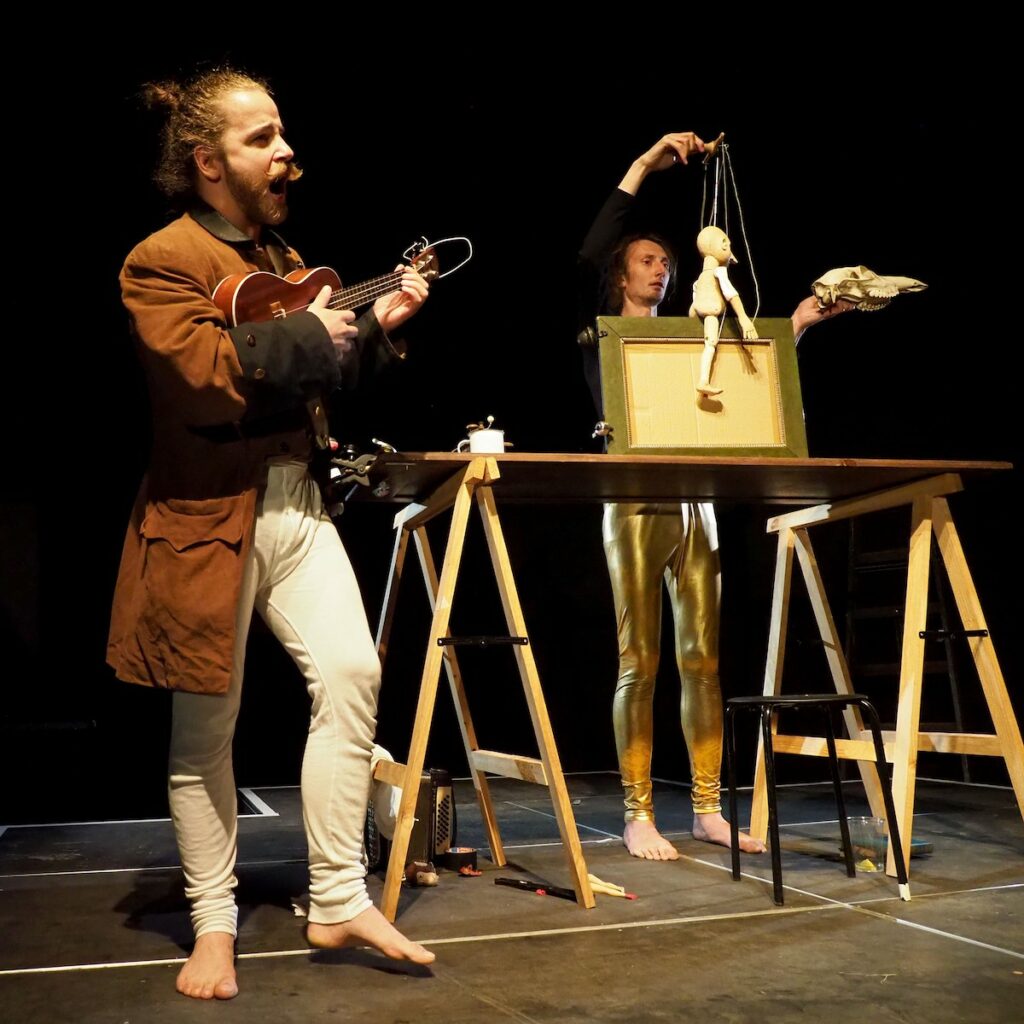 WORKING GROUP
Directors: Vida Cerkvenik Bren & Matija Solce
Puppet: Mitja Ritmanič
Scenography, music, script: Matija Solce
Performers: Filip Šebšajevič, Matija Solce